Overview
The Clean Air Plan Strategy requires a full understanding of local air quality in order to develop appropriate actions to tackle poor air quality. In line with government requirements, we undertake detailed air quality monitoring at various locations across the Borough to find out the levels of certain harmful pollutants.  The locations where air quality has been identified as a current concern are called Air Quality Management Areas (AQMAs) – these are areas where the levels of air pollution are higher or close to the national air quality standards.
Air Quality Management Areas (AQMAs)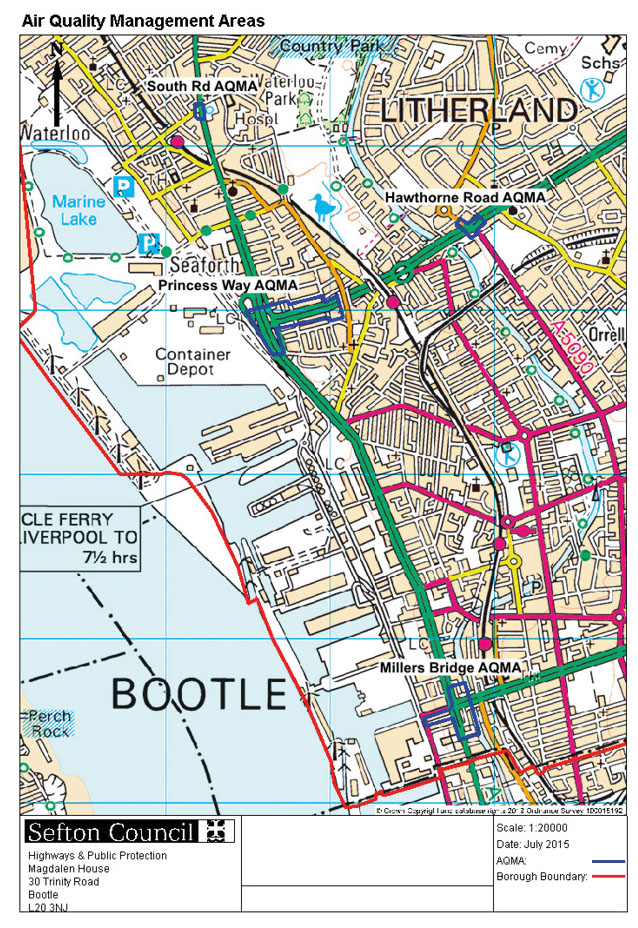 There are currently four locations in Sefton where air quality has been identified as a current concern in terms of Nitrogen Dioxide (N02) and/or Particulate Matter (PM) levels. These are defined as AQMAs, as follows:
Lathom Close, Princess Way, Seaforth (NO2)
Millers Bridge/Derby Road junction, Bootle (PM10 and NO2)
South Road/Crosby Road North junction, Waterloo (NO2)
Hawthorne Road/Church Road junction, Litherland (NO2)
Air Quality Action Plans
The Council has developed and implemented Air Quality Action Plans (AQAPs) for all its AQMAs. The plans include two types of action – site specific measures and general measures. The site-specific measures are targeted measures to address site specific air quality issues within individual AQMAs. General measures provide a collective benefit across all AQMAs, with less impact at each specific AQMA.
Sefton's latest Air Quality Status Report provides full detail on the air quality actions and is available below.
 Previous versions of the Air Quality Status Report are available online here
AECOM Early Feasibility Study 
Despite the ongoing work of the Air Quality Action Plans to tackle poor air quality, there are still challenges ahead in order to reduce the levels of nitrogen dioxide (NO2) in some of Sefton's AQMAs.  Therefore, in 2018, Sefton Council asked Environmental Consultants AECOM to produce an independent report to give us a clearer picture on patterns and sources of transport related air pollution in Sefton. This report tells us what the traffic makeup in Sefton is like, what the air quality is like in the borough, what would happen if no further air quality improvement actions were undertaken and whether implementing a Clean Air Zone (CAZ) would improve air quality. In summary, the report concluded that a CAZ could have a positive effect on reducing NO2 in and around the Air Quality Management Areas.